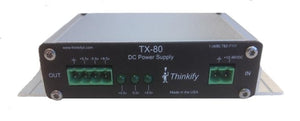 TX-80 DC Power Supply for TR-1000 and Alien ALR-9900 Readers
Regular price $350.00 USD Sale
Product Overview
**FCC Typed Approved Countries Only**
The TX-80 is a rugged, industrial power supply for the Thinkify TR-1000 and Alien ALR-9900 series RFID readers. The TX-80 is a drop-in replacement for the stock AC power supply usually provided, allowing customers much more flexibility in where they can deploy high performance, RFID.
The TX-80 allows users to "cut the cord" and take their Thinkify TR-1000 or Alien's ALR-9900 series readers anywhere there is a DC power source. The TX-80 has the same connecter as the original power supply, allowing plug-and-play installation with no modifications to the reader.
Applications
Battery-Powered, Mobile applications
Vehicle RFID
Race Timing
Industrial RFID
Transportation, e.g., Rail / Vehicle Tolling
Features
Flexibility
The wide operating input range of 12 to 36 VDC gives users and installers greater options for where they deploy RFID systems..
Easy Mounting
Easy installation in any orientation with the included side mounting rails.
Highly Efficient Design
State-of-the-art power conditioning electronics allow the TX-80 to run cool to the touch without using an internal fan. No internal fan means increased reliability as there are no moving parts to wear out or service. In addition, this approach reduces electrical noise to the overall system and to the reader which allows for a longer lasting product with a cleaner output signal.
Safety
Input polarity protection
On board transient voltage protection
Fused input
Indicators
3 LEDs on the side of the enclosure indicate correct operation and the correct voltages going to the reader.
Warranty
2 years Manufacturing Defects