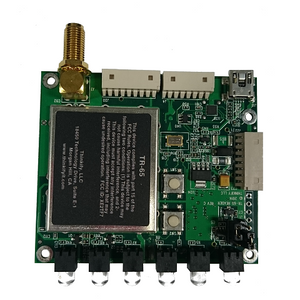 TR-65 RFID Reader Module with Antenna (USB, TTL, RS232)
Regular price $385.00 USD Sale
Overview

**FCC Typed Approved Countries Only**
The TR-65 is a Gen2 RFID read/write engine that provides advanced RFID capabilities in an extremely small and easy-to-use package. With an unprecedented level of integration, advanced power control capabilities, excellent performance and a very attractive price point, the TR-65 represents the next step in the evolution of RFID. Designed with the integrator and OEM in mind, the Insight™ TR-65 gives you the power and flexibility to add high-performance Gen2 RFID to your embedded system.
The TR-65 makes integrating Gen2 RFID into your project simple.
Applications
Smart Shelves
Commissioning / Programming Stations
RFID-Enabled Cabinets
Point-of-Sale Devices
Printer-Applicators
Vending Machines
Hand-Held devices
Access Control
Features
Small Size

Measuring just ~2.75" x 2.4" (7 cm x 6cm) the Insight is easy to fit into your design.

Low Power Consumption

We designed the Insight for battery use. With "instant on" functionality, a low-power sleep mode, and a very efficient RF amplifier scheme, the TR-50 is perhaps the most power efficient RFID engine on the market today.
High Performance

Up to 190 tags-per-second read rate. Over 0.5 Watt power output for long range applications.

Highly Sensitive Receiver Architecture

Dense Reader Mode receiver filtering for good performance in multi-reader environments.

Extremely Low-current IDLE Mode for Battery Use

Designed for Global Operation

The TR-50's frequency range spans US, China and EU bands allowing you to use just one SKU to make your product ready for world-wide sales.

Flexible

A diverse set of interface options provides you with great flexibility in building your solution:

Multiple communication interfaces: RS232 or TTL (x2) and USB 2.0
Multiple Power Options: Power over USB / External 5V DC / Battery

Developer-Friendly

The Insight features a simple and powerful control protocol and well-documented APIs in multiple languages. (Java, Ruby, VB6 and C#) Units can be configured for autonomous operation; providing data only on external trigger conditions. The API supports device configuration, tag reading and programming (including extended memory areas).
Technical Specifications
| | |
| --- | --- |
| Frequency | 860~960MHz (Depends on regulatory region) |
| Physical | Width: 7 cm, Length: 6cm, Height: 1.1 cm, Weight: 20 g |
| Regulatory Compliance | FCC 15.247(Pending), RoHS |
| RFID Protocols | ISO-18000-6C (EPC Gen2) |
| Read Rate | Up to 190 tps (50 tps typical) |
| Read Range | Approx. 4m with 6 dBi linearly polarized antenna |
| Antenna Connection | One (1) 50 Ohm port, RP-SMA connector |
| RF Power Output | 15 to ~27 dBm adjustable in 1 dB steps |
| Host Connections | USB 2.0, RS232 or TTL Level (2 Ports) |
| GPIO | (TTL Level) 2 inputs, 2 outputs |
| Supply Voltage | 5V Input or USB Connection |
| Power Consumption | Typical Power consumption of 500uA in low power IDLE mode. Maximum of 400 mA when running RF full power. |
| Six (6) LEDs | Power, RF Active, Tag Sense, Tag Read, Reserved1, Reserved2 Default firmware control of LEDs can be released for user applications. |
| Software SDK | C#, JAVA, RUBY |